Maggie's Oxford £3m centre opens at Churchill Hospital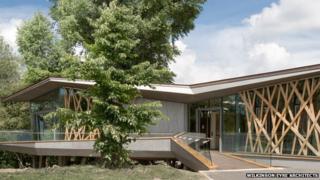 A new support centre for cancer patients and their families has opened in the grounds of an Oxford hospital.
Maggie's Oxford spent £3m on the building located in front of the Oncology Wing at Churchill Hospital and welcomed its first patients on Tuesday.
The charity has been housed in a temporary cabin at the hospital since 2006.
Centre head Claire Marriott said: "Everyone is excited to come and use the new building."
She added: "We have been seeing up to 8,000 visits a year, but here I think we are easily going to see double that. We are visible, accessible, people can get here."
The charity will be expanding their support groups and providing more workshops and courses with the extra space.
In the building there are private counselling spaces, a library and information area and a large main room.
The campaign to raise the funds for the building was launched in 2009.