Cherwell council 'confident' of retaining Bicester MoD base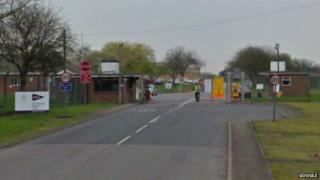 An Oxfordshire council says it is confident the Ministry of Defence will keep its logistics base in the county.
The MoD is planning to consolidate its operations in Bicester and Donnington, Shropshire, to just one of the sites.
Cherwell District Council is in talks to secure the future of its base to protect jobs and create hundreds more.
The MoD employs 420 people at four sites in Bicester. The new logistics fulfilment centre would bring a further 200 jobs to the area, the council said.
Telford and Wrekin Council is also bidding for MoD Donnington to become the Army's main logistics base, which it claimed would secure 700 jobs and create 700 more on the military site.
The Bicester centre forms part of a wider planning application - the council is also buying land from the MoD for up to 1,900 self-build homes at Graven Hill.
Cherwell council leader Barry Wood said: "We have now exchanged contracts with the MoD for Graven Hill and a lot of work is taking place behind the scenes to ensure we are ready to hit the ground running once we do acquire the site.
"But alongside all of this, we are still working to secure the future of the fulfilment centre in Bicester which will not only protect existing jobs in the town, but create hundreds more.
"We are aware the MoD is negotiating between Bicester and a second site within Telford and Wrekin Council to consolidate its operations, but are proactively holding discussions so the MoD is in no doubt about our support for this centre.
"With our support and the geographical benefits that Bicester offers by being centrally located, we are confident of keeping this centre, and consequently its jobs, in the town."