Oxfordshire spending millions each year on landfill tax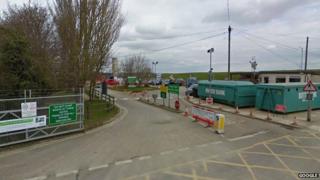 Sending rubbish to landfill sites cost Oxfordshire £8m in "tax" last year.
Central government, which collects the money, says its landfill tax encourages local authorities to recycle more.
Between 2004 and this year, the government has raised the per tonne levy from £14 to £72.
That has meant that, despite its recycling rates increasing, Oxfordshire County Council has been paying increasingly large landfill bills.
'Unsustainable'
In 2003-04, the amount of household waste put into landfill by the county council was 228,650.50 tonnes, costing it £3,201,107 in tax.
By 2013-14 the amount of waste it was dumping into landfill sites had nearly halved to 115,179.18 tonnes, but the amount of tax paid had soared to £8,292,901.
The government is using the tax in an attempt to meet EU targets for the reduction of waste sent to landfill.
A county council spokesman said Oxfordshire had the lowest waste per person of any county council and had achieved "massive reductions" in the amount of waste sent to landfill each year.
A spokesman said: "In the longer term, landfill tax is expected to continue to rise so landfill will become an increasingly unsustainable option both financially and environmentally."