A420 Shrivenham bypass closed for seven weeks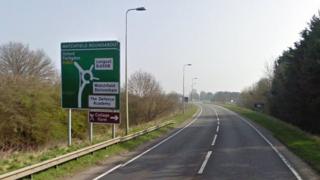 A major bypass in Oxfordshire has closed for seven weeks as resurfacing work costing £3.5m is carried out.
The A420 Shrivenham bypass has shut between Watchfield and Lower Bourton.
Oxfordshire County Council has warned drivers to expect "severe delays" but said crews would work extra shifts to finish the job as quickly as possible.
Diversions are in place for all traffic travelling between Oxford and Swindon. Heavy goods vehicles over 7.5 tonnes are being re-routed via the A34/M4.
About 20,000 vehicles are estimated to use the route each day.
'Failing rapidly'
Sue Nodder, chairwoman of Watchfield Parish Council, had called for reduced speed limits through affected villages and policing of heavy goods vehicles.
She said: "We know that the county council has got plans in place, so we will have to wait and see how it goes.
"The work has got to be done and traffic has to be diverted somewhere."
David Nimmo Smith, Oxfordshire County Council's cabinet member for transport, said: "This section of the A420 is failing rapidly and needs to be reconstructed. Our engineers will be working hard to renew the road, clean the drainage and replace the safety barrier.
"It is a big job, but one that needs to be done. All road users will be affected by the work and severe delays are to be expected.
"However I am sure that the short-term pain will be worth the long-term gain as the road should not need further repairs for many years."