'Fair Rosamund' well to be restored at Blenheim Palace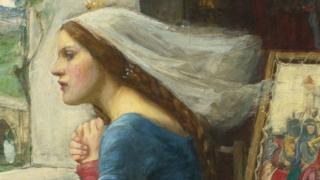 A royal well believed to have been built by King Henry II for his mistress to bathe in is undergoing restoration work at Blenheim Palace.
Fair Rosamund's Well is named after Rosamund Clifford, reputedly one of the great beauties of the 12th Century who inspired poems, stories and paintings.
Henry II's royal manor at Woodstock was near to where to the palace is today.
A palace spokeswoman said the well had become "somewhat overgrown and at risk of becoming damaged".
According to the 17th Century poem Fair Rosamond, Henry II built a labyrinthine bower at his Woodstock manor to hide Rosamund from Queen Eleanor.
Blenheim Palace experts believe the bathing place was part of the bower, which was said to have 150 doors.
An archaeological survey did not uncover any evidence of a bower but it identified what could be "ancient pipework associated with the well".
Until recently spring water from the well, which is located close to the lake overlooking the palace, was bottled and sold to visitors.