Vigil held for former Oxford Brookes student Hassan Hallaq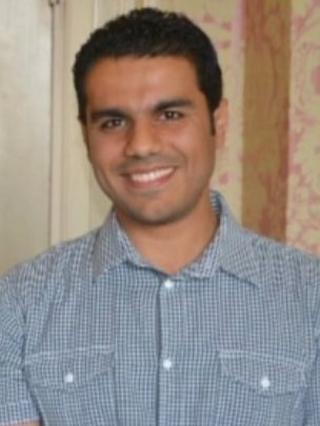 Students in Oxford have held a vigil for a former student who is in intensive care in Gaza, after nine members of his family died in a bomb attack.
Hassan Hallaq lived with his family in the city while he studied for a business course at Oxford Brookes University.
His pregnant wife and two young sons are among the dead.
Friends paid tribute to the family, who returned to the Middle East last year.
Saddam Zourob, from Gaza, who is currently studying at the university, said: "Hassan was the first person that I met to talk to about studying at Oxford Brookes University.
'Gentle person'
"I was totally lost in the beginning but a friend of mine put me in touch with Hassan.
"When you meet him you notice that he is always smiling and is a gentle, optimistic and peaceful person."
Mr Zourob said that Mr Hallaq had been at his sister's house celebrating Ramadan when the attack happened.
Mr Hallaq was the third recipient of the annual Gaza Scholarship and studied for a masters degree at the university during the 2012-13 academic year.
A vigil for him was held at Carfax Tower in the city on Tuesday.
A statement from Oxford Brookes said he had done "exceptionally well" and had won an award for outstanding achievement.
Professor Janet Beer, the university's vice-chancellor, said: "We are deeply shocked and saddened by this tragic news.
"Hassan came to Oxford with his family and became fully embedded into the life of the city and the university."
Israel launched its offensive on Gaza on 8 July with the declared objective of stopping rocket fire from the area.
At least 649 Palestinians and 31 Israelis have been killed in the past 15 days of fighting, officials say.