Four arrests in Oxford 'National Front' demonstration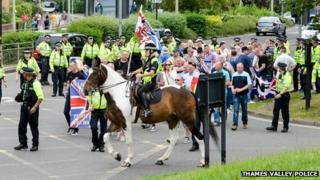 Police have arrested four people during a demonstration in Oxford city centre by a right-wing group claiming to be aligned to the National Front.
Counter protesters from Unite Against Fascism and other groups had also gathered, with both parties convening at Gloucester Green bus station.
Police tweeted the demonstration had caused "minimum disruption".
A Thames Valley Police spokesman said a policing operation had been "put in place to deal with the demonstration".
A further tweet from the Oxford branch of Thames Valley Police stated the city centre had "returned to its busy Saturday afternoon self" following the demonstration.
Three people - a 21-year-old woman and two men aged 25 and 26 - were arrested on suspicion of obstructing or resisting police.
A fourth person, a 26-year-old man, was held on suspicion of the theft of a flag.
A police spokesman said all four people remained in police custody on Saturday evening.