Warning after roadwork traffic at Kennington Roundabout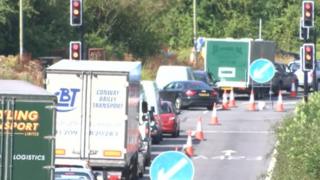 Motorists are being warned to use alternative routes into Oxford after roadworks caused traffic chaos.
A contraflow system has reduced the A423 to one lane between Hinksey Hill and Heyford Hill interchanges until November, during a £6m scheme to create a roundabout.
Some motorists were in traffic for up to three hours on Monday.
Oxfordshire County Council deputy leader Rodney Rose told motorists to consider using public transport.
"One bus can take 70 cars off the road for example and a train can take an awful lot more. So if a train journey is possible, even if it is until the end of November, perhaps you would think about it," he said.
There are also side and slip road closures and a 30mph speed limit.