Oxford's College Cruisers battle on despite land loss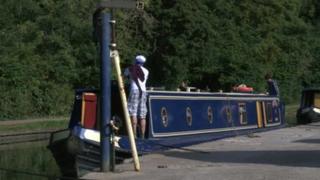 A couple have said they are determined to carry on renting out holiday boats on the Oxford Canal, despite losing two-thirds of their land.
Owners of College Cruisers had hoped to stay for the summer season after their lease was up, but were given three days to clear the site at Jericho, Oxford.
They said they hoped they would not have to cancel people's boat holidays.
The land is part of a regeneration plan but the developer buying it said the firm could have stayed for the summer.
Charlie and Carys Bruns have run College Cruisers from a site next to Oxford Canal for 18 years.
They rent a third of the land from the Canals and River Trust and two thirds from Cordatus, receivers for Spring Residential, which went in to administration in 2009.
Moving facilities
Their lease with Cordatus ended on Saturday and Mrs Bruns said: "There had been hope that the receivers would give us an extra few months until the end of the holiday season.
"On Wednesday evening they said 'no' and that we would have to clear the site by Saturday.
"We had hoped that sense would prevail."
The couple's car park, power supply, sewage systems, water supply, telephone lines, office and toilets were on the Cordatus part of the site.
They are moving all their facilities to the section they rent from the trust.
Cordatus is selling the land to developers Strategic Iconic Assets Heritage Acquisition Fund (SIAHAF), for the Jericho Wharf development, which will include a piazza, housing, community centre and boatyard.
A planning application has been submitted to Oxford City Council and will be considered in the autumn.
Nick Band, spokesman for SIAHAF, said the company would have been happy for College Cruisers to stay on the site for the summer.
Cordatus declined to comment.