Oxford St Cross College wins appeal for west quad plans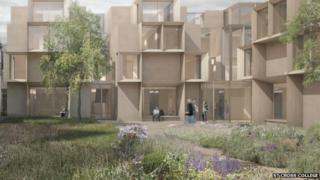 A college at Oxford University has won its appeal to build new facilities, including more than 50 bedrooms.
St Cross College plans to build a west quad which includes study bedrooms, a lecture theatre and library.
Oxford City Council had refused the planning application in October on the grounds it would have an "unacceptable impact on the special character and appearance of the conservation area".
But the Planning Inspectorate has accepted the college's appeal.
The development also includes seminar rooms and ancillary accommodation built over four floors and a basement.
Existing boundary walls will also be demolished and rebuilt.
The master of St Cross College, Sir Mark Jones, said: "We can look forward to completing our 2015 50th anniversary campaign for the west quad, and starting the build. This is wonderful news for St Cross."