Littlemore daughter kept dead mother's body in bathroom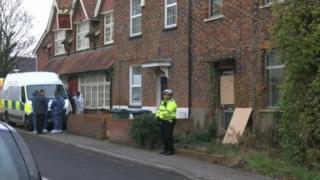 A daughter found dead in a home in Oxfordshire had kept the body of her mother in her bathroom for months, an inquest has heard.
Pauline and Caroline Jessett were discovered at the home they shared in Cowley Road, Littlemore, in November.
The inquest heard it was likely the mother, Pauline, had died in March 2012 and her daughter was unable to cope.
Miss Jessett, 50, had carried on living in the house but it is thought she died some time in 2013.
The inquest heard Miss Jessett placed the body of her 78-year-old mother in the downstairs bath and covered her with blankets and sheets.
The mother and daughter's bodies were found after environmental health officers were called to the house by neighbours because of concerns about the safety of the property.
'Mummified' body
Police discovered the body of Miss Jessett lying on the floor of a bedroom on 21 November.
That day, the house was declared structurally unsound, with holes in the floors and walls and had to be made safe before investigations could continue
A week later, Mrs Jessett's body was discovered in the bathroom.
At the time, next door neighbour Raymond Bailey described the women as reclusive.
Post-mortem examinations carried out on both bodies were unable to determine a cause of death.
Miss Jessett's body was described as "mummified" by police and could only be identified by forensic techniques.
Her mother was identified from the unique serial number on an artificial hip.
Describing the case as "sad and unusual", coroner Darren Salter recorded a verdict of death by natural causes for Caroline Jessett, most likely from a brain tumour.
He recorded an open verdict for Pauline Jessett, as he said it was impossible to determine a cause of death.