A34 crash: Beer barrel lorry collision closes road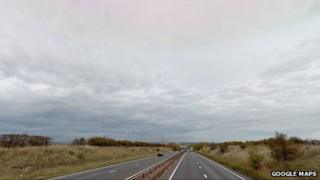 Beer barrels were left strewn across a major road after the lorry carrying them collided with another.
The A34 between Milton, in Oxfordshire, and West Ilsley, in Berkshire, was left shut for five hours after the crash at about 00:45 BST.
The Environment Agency had to be called to the scene to deal with the large oil and diesel spillage.
One of the two lorry drivers had to be cut out of his cab and was treated for minor injuries.
A police spokesman said the barrels were "all over the road" and the road closure had caused a one-mile tailback.
He added officers were investigating the cause of the crash.