River Cherwell family car crash investigated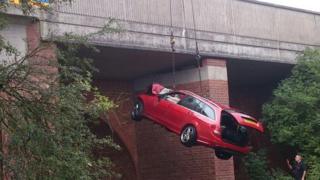 Thames Valley Police is investigating how a car carrying a family left the road, flew 10m (33ft) in the air and crashed into the River Cherwell.
The mother, father and their two children released themselves from the half-submerged Mercedes but were left stranded in waist-level water.
An eyewitness called 999 at Nell Bridge near Banbury on Sunday morning.
Firefighters used rescue sleds, spinal boards and other equipment to get them out of the water.
All four family members were taken to the John Radcliffe Hospital, one by air ambulance, but did not suffer serious injuries.
Water-filled booms were also used to stop a fuel leak from spreading downstream.
A neighbour of the family said they reside in Oxford and suffered various minor injuries.