Didcot four-year-old completes 'triathlon' for baby unit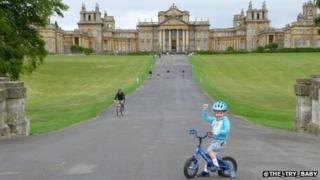 A four-year-old from Oxfordshire has completed a mini-triathlon to raise money for a hospital baby unit.
William De Croos from Didcot swam 40m, cycled a mile with stabilisers - and ran 800m to raise more than £1,000.
He had been treated for low blood sugar at birth at the John Radcliffe hospital in Oxford.
William said: "I did some running, I did some cycling and I did swimming all the way from one side to the other."
The money he raised in online donations will be donated to the hospital's special care baby unit and the Combat Stress charity.
His mother Rebecca said the challenge was done a "big thank you" to hospital staff.
"It was to celebrate him being fit and well. We said we'd never forget them," she said.