John Radcliffe Hospital opens Here For Health centre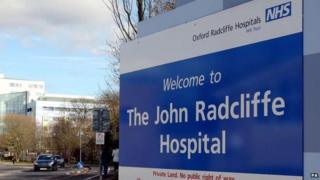 The John Radcliffe Hospital in Oxford has opened a drop-in centre aimed at tackling unhealthy lifestyles.
Here For Health will be open for a year as a trial service to patients, visitors and staff.
Topics covered include healthy eating, physical activity, alcohol, smoking and weight management.
Centre specialist Aine Lyng said she was passionate about helping people "to live a healthy, happy lifestyle".
The trial, costing around £80,000, has been funded by Oxford Radcliffe Charitable Funds and the NHS England Thames Valley Area Team.
The centre is located in the Blue Outpatients area on Level two at the hospital and is open Monday to Friday.