Permission sought for Bicester 'eco-town' plans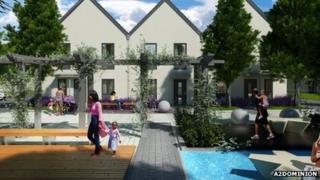 The first of a series of planning applications have been submitted for a so-called "eco-town" in Oxfordshire.
A2Dominion wants to build up to 6,000 energy-efficient homes on land north west of Bicester in the next 20 years.
The site is one of four across England identified for potential "eco-towns".
Outline planning permission is being sought for up to 2,600 zero-carbon homes, care apartments for elderly people and 4,700 sq m of commercial space.
'The future'
The first planning application relates to 382 acres north of Lords Lane.
The application also includes plans for about 175 acres of green space, play areas, a village green with recreational sports fields, a community farm, retail and leisure space and a primary school.
In the coming weeks two further applications will be submitted, providing infrastructure, commercial space and additional amenities.
Steve Hornblow, NW Bicester project director, said: "NW Bicester will showcase what the future can look like by enabling people to live healthy, affordable lives in high quality homes that use resources wisely and enhance their natural environment."
A2Dominion has already paid £190,909 to fund the development of a primary school and has started work on access roads for the site.
The building of the first homes is due to start this autumn.