Space studio school opens its doors in Banbury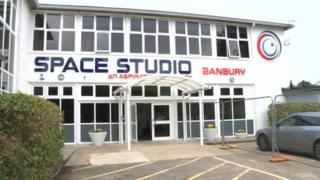 A school aimed at pupils who want to work in the space industry has opened its doors in Oxfordshire.
Space Studio Banbury received its first intake of 75 teenage students, who will study a curriculum based around space, science and maths.
It is one of the government's "studio schools", which mix academic studies with work-based training.
Principal Mike Grocott described the venture as "a small school with big aspirations".
He said: "There is a growing need for people with an awareness of STEM (science, technology, engineering and mathematics), whether at degree level or a technical level, and we are going to provide that for people who are really interested in it."
'Serious commitment'
The school, which is non-selective, is based on the Banbury Academy Campus and will be run by the Aspirations Academy Trust.
It will eventually take 300 pupils aged 14 to 18 and it is intended to prepare students for careers in space-related industries.
Some aspects of the curriculum will be developed by staff from the UK Space Agency, the European Space Agency and the National Space Academy programme.
Students will also attend a weekly work placement.
Mr Grocott said: "We have got students coming from places like Warwick, Leamington and Rugby, so people are making a serious commitment to coming.
"We are providing a workforce for the future, which is what we need. Many of the jobs of tomorrow are based around these subjects."