Upper Arncott 40-acre solar farm approved by councillors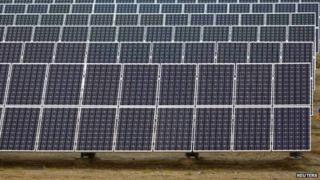 Plans to build a 40-acre solar park in Oxfordshire have been approved by councillors.
Approval was granted by Cherwell District Council for solar panels to be built in Upper Arncott.
The eight megawatt solar photovoltaic farm will be built on an agricultural field currently used for arable crop growing as part of Brook Farm.
The solar farm, on land near Murcott Road, would provide energy for about 2,000 homes, its developers claim.
'Not visually intrusive'
Cllr Michael Gibbard, lead member for planning at Cherwell District Council, said: "Given the relatively flat landscape, combined with proposed landscaping, the council considered that the proposal wouldn't be visually intrusive or harm the topography, character or appearance of the landscape.
"The National Planning Policy Framework encourages councils to approve applications for renewable energy."
Conditions of planning consent include:
The applicant, Green Energy UK Direct, needs to show the Environment Agency the increased risk of flooding caused by the development can be compensated for
Work to build the development must begin within three years of the date of planning consent being granted
Electricity can be generated from the site for no more than 25 years
A site restoration scheme needs to be started at least two years before the end of the 25-year period
The solar panels will be built about a metre off the ground and have a maximum height of about three metres, facing south.
The site will be contained by a two metre-high steel mesh security fence, mounted with CCTV cameras.
Ancillary work includes access, a temporary compound and a substation.