Fixing Oxfordshire's worst roads not 'best value'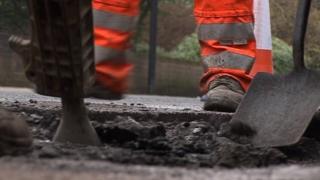 Some roads in Oxfordshire could be left in a "poor state" because fixing them is not best value for money.
Oxfordshire County Council's cabinet is to consider a new highways policy in the county amid ongoing budget cuts.
The plan would see more money spent on maintaining roads already in a good condition and less fixing ones in poor repair.
The council said the policy would give it the "best chance" to contain decline in the county's road network.
'Managing decline'
Councillor David Nimmo Smith, cabinet member for environment, said: "No council in the UK has enough money to maintain its roads to a high condition.
"In light of that national picture we could have proposed a policy of putting all of our eggs in one basket and spending all of our highways cash on roads in the poorest condition.
"We are managing decline, but the key word there is 'managing'. We want to ensure we get the best value of the limited resources we will have for road maintenance."
Currently, the council said it spends roughly 50% of its budget on fixing the worst of its roads and 50% "proactively" to keep roads in good condition.
It wants to change the policy so that it spends 75% proactively.
The council said it needed to make savings of more than £260m across its services between 2010 and 2018 because of Government budget cuts.
It said fixing potholes alone in Oxfordshire would cost £165m and £20m a year to maintain.
The council said a policy of "worst first" would lead to the overall condition of the roads being "much worse".
The proposed new highway asset management plan will be considered by the council's cabinet on September 16.
The council said reported potholes would still be fixed in the normal way.