'Fight risk' at Bullingdon Prison as prison officer numbers fall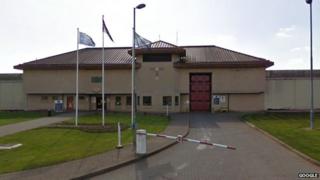 There is an increased risk of fights at an Oxfordshire jail because of a reduction in prison officer numbers, campaigners have warned.
A BBC freedom of information request revealed that although Bullingdon Prison is almost at its 1,114 prisoner capacity, officer numbers fell by 40 to 240 from 2009 to 2013.
The Howard League for Penal Reform said the staffing levels were too low.
But the Prison Service said staffing levels were safe.
'Stir crazy'
A Ministry of Justice report rated the Bicester prison as "of concern" in July for its overall performance.
Frances Crook, chief executive of the Howard League for Penal Reform, warned officer shortages left prisoners locked up for a long time and said it was "asking for trouble."
She said: "If they are caged up like that for hours and hours, they come out fighting, they just go stir crazy."
Jodie Prin, the fiancee of an inmate at Bullingdon, said prisoners were spending more time in cells.
She said: "Getting moved from the wing to educational departments on occasion he hasn't been able to do, because of staff shortages, and it has been said that is because there is no prison officer to walk you from the wing to the educational department."
A Prison Service spokesperson said: "Staffing levels at the prison are safe and the prison is delivering a decent and secure regime."