Opening of £5m Bicester Community Hospital delayed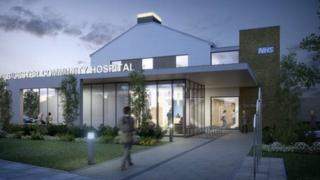 The opening of a £5m community hospital in an Oxfordshire town has been delayed.
The new 12-bed facility in Bicester was due to open in August but Oxfordshire Clinical Commissioning Group (OCCG) said contractors were still completing "snagging works" at the site.
County councillor Les Sibley, who campaigned for the hospital, said the delay was "disappointing".
The OCCG said an opening date would be confirmed once work had completed.
In a statement, it said: "The building contractors are carrying out snagging works and when this is completed a deep clean will be carried out.
"Once we are satisfied that all the work is completed to make the building fit for occupation, the process of fire and safety training for staff and moving services to the new building will begin."
But Mr Sibley said: "I would have thought it was really of paramount importance to get the new hospital open so that it actually does give access to the new technology and services that can be provided by the hospital."