Iron Age mirror fund raising success for Oxford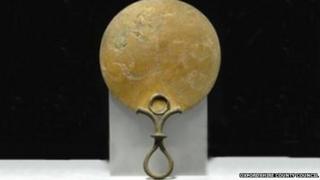 Friends of the Oxfordshire Museum have raised enough money to keep a rare Iron Age mirror in the county.
The mirror, dating from the first century BC, was found near Didcot and had been at risk of being exported to an overseas buyer.
Grants and donations from the public mean the artefact, one of 18 complete such objects known to exist, will be kept by the Oxfordshire Museum.
Museum director Carol Anderson said she was "delighted".
'Significant heritage'
A metal detectorist found the mirror in a field near Didcot in 2007 and it was sold by the owner to an anonymous bidder abroad.
A temporary export ban was issued so the The Oxfordshire Museum could try to raise the sale price of £33,000 by Friday.
The Friends of Oxfordshire Museum launched an appeal and have raised £16,000 through public donations, which is more than was initially needed.
Grants from the ACE/V&A Purchase Grant Fund, the Headley Trust and jewellers Wartski, which made the Duchess of Cambridge's wedding ring, made up a substantial percentage of the total.
The rest will go towards the upkeep of the mirror, which has an unusual curvilinear La Tène pattern, and any restoration needed.
Ms Anderson said: "The generosity of local people in supporting the appeal has been fantastic.
"We are delighted that such a significant part of the heritage of Oxfordshire has been saved for the county and the nation."
The mirror is in a bank vault and will be brought to Oxfordshire for an unveiling at the Cornerstone Arts Centre in Didcot.
It will then be kept at the Oxfordshire Museum after a tour around the county.