Centre for Oxfordshire children on 'edge' of care system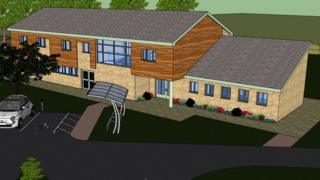 Plans for a centre to assess children at risk of being taken into care are to go on display in Oxfordshire.
The site in Eynsham would provide short-term accommodation for up to six children, aged 12 to 17, described as on the "edge" of the care system.
The county council said it would enable more vulnerable children to stay closer to home.
Children would be assessed on whether they should return home or potentially be placed with a foster carer.
'Traumatic childhoods'
Oxfordshire County Council said the plans would mean fewer children would need to receive care outside the county.
A public drop-in session takes place later at Eynsham Village Hall, where the plans will be displayed.
The event is being held ahead of a planning application being submitted.
Melinda Tilley, Oxfordshire County Council's cabinet member for children, education and families, said: "We all have a responsibility to help keep children safe, especially vulnerable young people who have often experienced traumatic childhoods.
"We want to work with local communities to provide the best possible environment for our young people."
The proposed location is at Litchfield Farm off Merton Court.
The council said it was likely some children staying at the centre would be there for part of the week, as assessment work would also take place at family homes.