Didcot Moor Ditch fish deaths investigation closed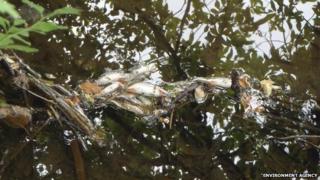 Investigators have been unable to trace the source of a chemical which killed thousands of fish in Oxfordshire.
About 4,400 dead fish were found at the Moor Ditch in Didcot in July.
The Environment Agency said it was not able to trace the source as the chemical is widely used in a range of cleaning products.
It added officers were now providing advice and guidance on the safe storage of chemicals and oils around surface water drains in the area.
Originally, the agency said the pollution had been traced to drains on a local industrial estate.
It also said the deaths were not linked to the demolition of three cooling towers at Didcot Power Station the previous day.