Oxfordshire solar power scheme shares go on sale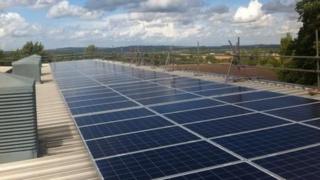 Shares in a community-owned solar scheme go on sale to the public later.
The project, run by Low Carbon Hub, will see the roofs of 18 Oxfordshire schools and several businesses fitted with solar panels.
Initial funding for the works, which has seen seven schools fitted with solar panels, came via a loan from Oxford City Council.
The cost of a stake in the project, which is expected to generate enough power for 250 homes, starts at £250.
The share offer is open until 28 November.
The organisation is aiming to raise a total of £1.5m to repay its debt to the council for the first phase of construction.
"We will then draw down more money to pay for the next phase, so we keep a continuous schedule of installation," a spokesman said.
Low Carbon Hub is a not-for-profit organisation, set up in 2011. It helps community groups across Oxfordshire develop renewable energy and energy reduction projects.
The council has loaned £2.3m to the scheme.
Sir Richard Branson, who has already committed to buying shares in the scheme, said: "Love this idea - and it's definitely time to shake up the way we generate and use energy."
Shares are expected to given a return of 5% a year, or up to 8.2% for those who qualify for Enterprise Investment Scheme (EIS) tax relief.
Low Carbon Hub says the scheme will save a total of 385 tonnes of carbon dioxide per year.