Oxfordshire cycle path petition to be presented to council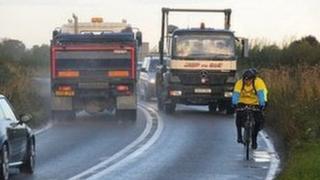 A charity campaigning for a new cycle path in Oxfordshire is to present a petition with more than 3,000 signatures to the county council.
Bike Safe wants a cycle path to be built along the B4044 between Eynsham and Botley in Oxfordshire.
The group will present the petition to the county council leader Ian Hudspeth at Hill End Environmental Centre.
Before presenting the petition, the group wants to escort Mr Hudspeth by bike from Botley to Hill End.
Oxfordshire County Council recently launched Connecting Oxfordshire – a strategy to connect areas and centres of employment in Oxfordshire more effectively.
Bike Safe said it believed more investment in cycling should be an "essential ingredient" in that strategy.
The B4044 "community path" was a step towards the creation of a "world-class cycling network" in the county, it said.