Oxfordshire nurse vacancies lead to bed closures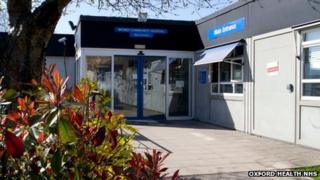 "High levels" of nurse vacancies have led two community hospitals in Oxfordshire to shut beds.
Abingdon and Witney Community Hospitals have closed six beds each until the posts are filled.
Oxford Health NHS Foundation Trust blamed a high cost of living in the county, where a "high cost area supplement" is not available.
A spokesman added: "A fresh recruitment drive to attract and retain nurses is under way."
There are nine community hospitals in Oxfordshire, which provide health services such as rehabilitation, first aid care and palliative care, particularly for older people.
The hospitals in Witney and Abingdon provide a total of 102 beds.
A report published in May by Health Education England showed around 10% of NHS nursing posts have been left vacant.
Royal College of Nursing South East spokeswoman Lindsay Meeks said the region was "particularly difficult for recruitment because nurses will often choose to travel a little further to benefit from London weighting, rather than working in Oxfordshire".
She added: "There needs to be a robust recruitment and retention plan to not only get more school leavers interested in a career in nursing, but also to make sure that those already in the profession want to stay."