Disbanded 23 Pioneer Regiment in final parade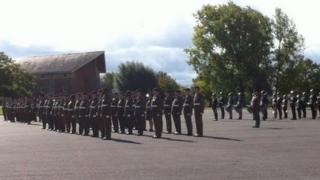 Soldiers have taken part in a "farewell" parade to mark their regiment being officially disbanded.
23 Pioneer Regiment, based at St David's Barracks, Bicester, since the 1940s, has recently served in operations in Iraq and Afghanistan.
Its teams searched for improvised explosives, protected convoys, and contributed to construction projects.
The Royal Logistic Corps regiment is being disbanded as part of national plans to cut 20,000 army jobs.
Half the soldiers at the Oxfordshire barracks will be redeployed.
A British Army spokesman said: "The disbandment of 23 Pioneer Regiment brings to a close many years of faithful service by the Pioneers, renowned for their versatility."
The MoD is spending £10m on new facilities at the site ready for when other regiments move in.
The final ceremony on Parade Square was inspected by Prince Richard, Duke of Gloucester.
Bicester's new £70m shopping centre, Pioneer Square, was named in honour of the regiment.