Merlins handover ceremony at RAF Benson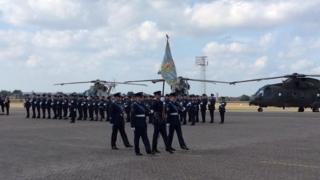 A ceremony to mark the handover of the RAF's Oxfordshire-based Merlin helicopter force to the Royal Navy has been held.
Twenty five aircraft will transfer from RAF Benson to the 846 Naval Air Squadron in Somerset over two years.
Senior officers were joined by the Duke of York and Prince Michael of Kent at a ceremonial parade and air display.
Station commander Nigel Colman said there was an "emotional attachment" to the aircraft at the base.
"The Merlins' role will continue - they are on extremely high readiness to deploy just as they have been over the past 10 years, but operated by the Royal Navy," he added.
The aircraft have served in Bosnia, Iraq and Afghanistan where they were used to transport troops, supplies and civilians.
As part of the government's Strategic Defence Review, they are due to replace the navy's Sea King fleet which goes out of service in 2016.
Staff from 78 and 28 Squadrons which are being disbanded, have been reallocated to other posts within the RAF.