Health fears after Oxford burst water main flooding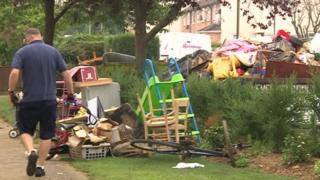 Residents in Oxford have criticised Thames Water after they were hit by flooding from a burst water main.
They say not enough has been done to clean up their properties in Normandy Crescent, Cowley.
Councillor Liz Brighouse said: "There's food rotting, the stench is horrendous, and there are still people living upstairs in the flats."
About 50 properties were flooded on 23 September. Thames Water said it was acting.
Some 75 people are now living in temporary accommodation. It is the second time in seven years the pipe has burst. It is estimated up to £1m worth of damage has been caused by flood water.
'Nothing left'
Kara Hayes said her ground floor family flat was in the same state as when the flood hit eight days ago.
She said: "It's hell, I've got nothing left; we haven't even got a pair of shoes. They were in the hallway and floated away. Even my cat has run away. I've got nothing."
A spokesman for Thames Water said: "Our loss adjustors are working through the damaged properties, before clearing the property so it can be thoroughly dried out.
"The council have or are cleaning and disinfecting the stairwells, and have cleared the pathways."