Abandoned clouded leopard cub reared in bathroom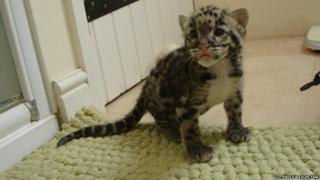 A rare clouded leopard has been hand-reared in the bathroom of a zookeeper after she was rejected by her mother.
Jamie Craig opted to look after the cub after she was found at Cotswold Wildlife Park shivering, close to death and only a day old.
"We were very lucky we found Nimbus when we did," he explained. "Another hour or two and we couldn't have brought her back. Without a doubt."
Nimbus ended up living at Mr Craig's Burford home for six weeks.
"We wanted to keep her warm and somewhere secure, and the bathroom was as good a place as any," he said.
"She could be messy with the milk and what comes out the other end, so we thought something with a wipe-clean floor was definitely needed.
"We have dogs downstairs and didn't want them pestering her either."
Mr Craig first heard of the cub's predicament when he heard a "really distressed noise, like a bird" coming from the leopard exhibit at the park.
"We took her home, warmed her up and she livened up pretty quick.
"Luckily she was one of these animals that's greedy from day one, and you're always on to a winner with a greedy animal."
During this time Mr Craig was assisted by his son Jai, 13, and daughter Niemi, 10, who "were really helpful" and developed a bond with the animal.
"She was a handful towards the end. Occasionally you'd listen out and think you were being burgled," he said.
Nimbus now has her own area in the park, and will join another clouded leopard when the time is right.
"At the moment they're a lot bigger than her and might want a snack.
"But it may be that always she maintains a bit of a bond with us and will come near, have a look, almost say hello, and then go back about her business," said Mr Craig.
Clouded leopards hail from southeast Asia and are currently listed as "vulnerable" by the International Union for Conservation of Nature.