West Oxfordshire housing development given go-ahead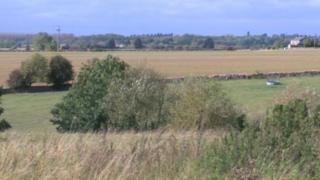 Plans to build hundreds of houses on farmland in west Oxfordshire have been approved.
West Oxfordshire District Council granted planning permission for 700 homes on greenbelt land at Carterton, near RAF Brize Norton.
Campaigners against the development said they were "bitterly disappointed" by the decision.
A separate application for 1,000 homes to the west of the town was turned down.
The approved plans for the farmland near Monahan Way include affordable housing, a primary school, playing fields, allotments and industrial areas.
Keith Glazier, chair of Brize Norton Parish Council, which opposed the plans, said the number of houses was "over and above what is actually required".
"The roads infrastructure is just not suited to the volume of traffic from that quantity of homes," he added.
Members of the Development Control Committee also voted to refuse a proposal by developer Crest Nicholson for about 1,000 homes to the west of Carterton along Upavon Way.
A planners' report recommended the plan be rejected on the grounds it would "represent a substantial intrusion and would cause significant harm to the character and landscape of the area and would relate poorly to existing built development".