'Ambitious' travel ideas for Oxford revealed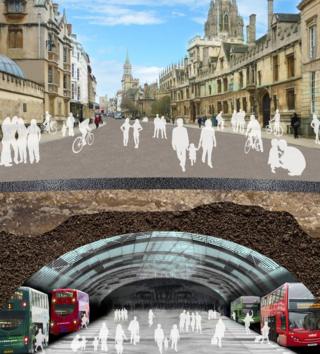 Ambitious ideas to ease traffic problems in Oxford, which could include a congestion charge and bus tunnels, have been revealed.
Oxfordshire County Council also suggested running passenger trains on the Cowley line used by the Mini plant.
Council leader Ian Hudspeth said: "If we do nothing it's only going to get worse - we've got to think forward."
The city's transport strategy outlines plans for bus tunnels under the High Street.
Any works that get the go-ahead would be paid for by national and European funding, developer contributions and third party investment, the council said.
Mr Hudspeth said: "If you go back 40 years would the idea of linking England and France by a tunnel be a realistic concept? That's happened."
The 20-year strategy being looked at by the council also includes workplace parking levies and park-and-rides in Eynsham, Cumnor, Woodstock, Lodge Hill, Sandford, and Garsington Road.
Oxford residents have reacted to the plans.
Posting a message on BBC Radio Oxford's Facebook page, Melanie Clarkson said: "These suggestions are all rubbish. Why persecute the people who work in Oxford by making them pay more to drive in? If I could bus it or train to work then I would, but it's not possible."
'Hole in the head'
While Cian Davis said: "The tunnel idea is a very good one - it works brilliantly in Seattle."
With trams and driverless cars among the other options being considered, James Davis posted: "Why aren't flying cars and star trek transporters on the list of options?"
Graham Jones, a member of Rescue Oxford, a business campaign group, said: "I think businesses in the city need a congestion charge like a hole in the head - it will do no good at all for retailers."
Martin Knight, former president of the International Tunnelling Association in Lausanne, Switzerland, and advisor to the UN on impacts of infrastructure in city centres, said the tunnels idea was "feasible".
"There has to be the political will, funding to achieve it [and] a route that takes into account environmental sensitivities, not just on nature but the impact on residents, does the traffic flow justify it? Do people want it?" Mr Knight said.
He estimated that a tunnel about 1km (0.6 miles) in length would cost between £500m and £700m.
The council said the ideas remain uncosted and a debate was ongoing.