Duke of Marlborough's funeral details announced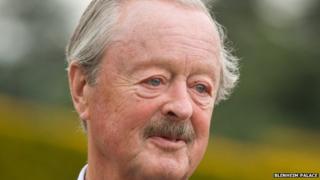 Details for the Duke of Marlborough's funeral have been announced by Blenheim Palace.
John Spencer-Churchill, the 11th Duke of Marlborough, died on Thursday aged 88.
The palace said a private service for family and close friends would be held at the Parish Church of St Mary Magdalene in Woodstock on Friday.
It added a memorial service would also be held in the new year in London. It is yet to release full details.
The duke's Blenheim Palace home - a Unesco World Heritage Site - and its private gardens will close on the day of the funeral.
Its park will remain open and entry will be free of charge for members of the public "wishing to pay their respects".
The palace was built in the 18th Century as a gift to the first duke, John Churchill, the military commander who led the Allied forces in the Battle of Blenheim.
It was also the birthplace of Winston Churchill, and has featured in films such as Gulliver's Travels and Kenneth Branagh's Hamlet.
The 11th duke, who married four times, is succeeded in the title by his son Jamie Spencer-Churchill, the Marquess of Blandford - one of the duke's four surviving children.