Oxford University Hospitals celebrate 300 years through song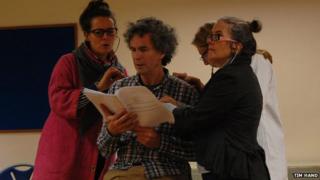 An official song has been written to mark 300 years since the death of the benefactor of Oxford's first hospital.
Breathe was composed by Orlando Gough to celebrate the life of Dr John Radcliffe, who funded the Radcliffe Infirmary in the 18th Century.
It is hoped that the track, which includes an amateur chorus of former patients, will be performed live at the John Radcliffe and Churchill hospitals.
Mr Gough called it a "music theatre piece both serious and very playful".
He added: "We're looking at life, from first breath to last breath.
"We take in such things as exercise, sleep, sex, labour, the mid-life crisis... it traces this enormous arc but through this particular lens."
Taking the lead on the track are vocalists Rebecca Askew, Anna Dennis and Melanie Pappenheim.
Ms Pappenheim has prior experience singing about doctors. Her haunting vocals were used in Doctor Who from 2005 to 2007.
'Something for everybody'
Ruth Charity, NHS arts co-ordinator, said: "I thought it might be interesting to look at commissioning a composer to work with the hospital in some way.
"Orlando is somebody who can compose something accessible as well as pushing boundaries. There's something for everybody in it."
The track was also researched with John Stradling, emeritus professor of respiratory medicine at Oxford University Hospitals NHS Trust.
John Radcliffe was physician to Queen Anne, and a large portion of his fortune went to charitable causes after he died on 1 November 1714.
Several other landmarks in the city are named after him, including the Radcliffe Camera, the Radcliffe Observatory and the Radcliffe Science Library.
Breathe will be performed at the North Wall Arts Centre on Saturday.