Reg Hayes, Britain's longest serving scout, dies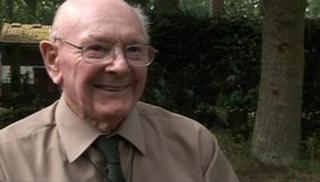 Britain's longest serving scout has died at the age of 99.
Reg Hayes, of Cowley, Oxford, only retired from the Scout Association in 2010, due to back problems.
He had served in the 2nd Oxford SS Mary and St John Scout Group for 87 years and had stayed in touch with many of the scouts he worked with.
Mr Hayes, who was a bachelor and only child, was first taken along to join the scouts by his grandmother in 1923.
Phil Earl, the Oxfordshire Scouting volunteer manager, said: "Reg was a lifelong volunteer scout leader. Although he retired from front line scouting four years ago, he remained constantly in touch with all his friends within the Scout Movement.
"His contribution to scouting in Oxford was unfailing and he touched the lives of countless young people and families through his work.
"Reg had such a positive influence on so many young people across Oxfordshire that when they became adults, Reg inspired them to take up flexible volunteer scout leadership roles within their local communities. We are proud to see that Reg's legacy lives on".
Mr Hayes received many awards during his scouting career, including the Chief Scout Silver Wolf award which he was given for outstanding service.