Oxford evacuated flood-hit homes guarded over looting fears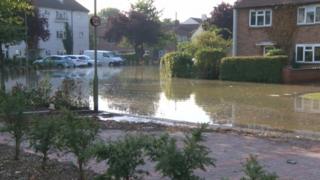 Flood-hit homes in Oxford that had to be evacuated when a water main burst are under guard over looting fears.
Residents are living in temporary accommodation after water flooded about 50 homes in Normandy Crescent, Cowley in the early hours of 23 September.
Thames Water is spending £8,000 a week on security to prevent the homes being looted.
The firm said work to repair the homes was under way, but it was not yet known when people would be able to return.
Stuart White, from Thames Water, said: " If customers feel the work is not progressing as quickly they should please let us know and we will help speed the insurance contractors along."
It is the second time in seven years the pipe has burst causing flooding in the crescent.
During flooding in 2007 belongings were stolen from empty homes.