Oxford students 'high users' of A&E, report finds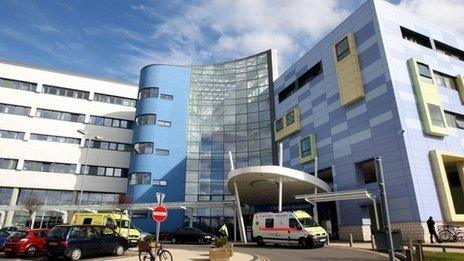 A study of student health experiences in Oxford has revealed high attendance at A&E and concerns over mental health services.
Independent watchdog Healthwatch Oxfordshire commissioned Oxford University students to research their contact with the NHS.
It found they feared being stigmatised when discussing mental health issues.
The report's recommendations are being passed to the NHS and Oxford's university welfare service.
The study found more than 20% of male students had used A&E at the John Radcliffe hospital during their time at Oxford.
Figures released by the Health and Social Care Information Centre showed, for the general population, attendance at A&E in Oxfordshire was between 9-18%.
The report recommended measures to take the pressure off A&E departments, such as improving cycle safety, developing a new minor injuries unit and making the 111 phone service more effective.
It also raised concerns over waiting times to access mental health services and found 25% of students were "worried by the judgement of health care professionals" when they underwent counselling.
The findings are being shared with Oxfordshire Clinical Commissioning Group (OCCG), Oxford University Student Welfare Services and South Central Ambulance Services (SCAS).
OCCG programme manager Alison Edgington said progress had already been made towards improving services based on students' recommendations.
She added: "During December we intend to run an awareness campaign about health services that are available to people across the county as alternatives to going to A&E. Students are one of the key audiences for this campaign."
Rachel Coney of Healthwatch Oxfordshire said: "Students account for about a quarter of residents in Oxford City and we are delighted the voices of the students themselves are being heard by those responsible for managing local health services."
Healthwatch Oxfordshire is part of Healthwatch Network, a group of 152 community-focused local watchdogs.
Related Internet Links
The BBC is not responsible for the content of external sites.