Thames Water to pay council tax for Cowley flood victims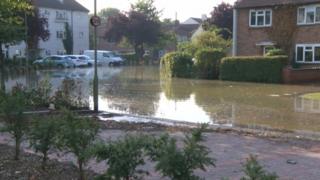 Flood victims are to have their council tax paid by a water company after being forced out of their homes when a water main burst.
Thames Water offered the money to residents of Normandy Crescent in Cowley, Oxford, after 23 properties were affected last month.
It could be several months before they are able to move back.
Stuart White, from the company, said there was "no way" customers should be the ones to pay after what happened.
Many of the residents had to be rescued from their homes on 23 September when they woke to find water seeping in because a high pressure supply pipe had split open.
'Significant expense'
Fifty properties were initially evacuated but some people were later able to return.
However those who are now living in temporary accommodation are also having to pay council tax for that property.
Mr White said: "There is no way customers should be paying their council tax bill twice in these circumstances, so having worked closely with the council we are pleased to have now covered off this significant expense until they are each able to move back home.
"If any customer faces an increased council tax liability in their alternative accommodation, we will make up the difference - so they are paying what they are used to."
The money will be paid directly to Oxford City Council.
Leader Bob Price welcomed the news. He said: "The past couple of weeks will have been a traumatic experience for everyone affected by flooding."