Katherine Grainger to become Oxford Brookes University chancellor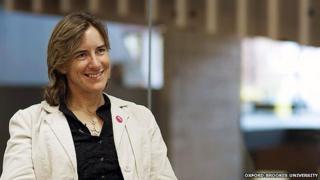 Olympic gold medallist Katherine Grainger will become Oxford Brookes University's new chancellor.
The 38-year-old rower, who won gold at London 2012, will succeed Shami Chakrabarti in the post in March.
She said: "It is a particularly exciting time to join the university with next year being the 150th anniversary."
Ms Grainger received an honorary degree from the university this year and has judged its Social Entrepreneur Awards.
'Perfect chancellor'
The university said she follows in the tradition of its chancellors by being passionate about human rights and, in particular, those of offenders.
The Olympian recently completed a PhD at King's College London which focused on the implications of whole-life prison sentences.
Vice-Chancellor Prof Janet Beer said: "Katherine is the embodiment of Oxford Brookes' values. Tireless in the pursuit of her goals, she also finds time to help others through her charity work."
Ms Grainger said: "As we celebrate a great history we should also look forward together to the next 150 years of an institution that can be proud of the difference it continues to make to the lives of individuals and the contribution it makes to society more widely."
Ms Chakrabarti, who served as chancellor for seven years, said: "Katherine Grainger is the perfect next chancellor of Oxford Brookes, epitomising excellence, endeavour and the positive values that are so important to our tradition."