John Radcliffe Hospital staff seek health advice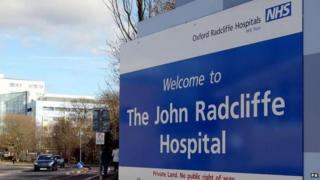 A health centre set up at an Oxfordshire hospital to improve health and wellbeing is being used more by staff than by members of the public.
The John Radcliffe Hospital in Oxford opened the Here for Health centre in August.
Since then it has been used by 133 members of staff, as well as 58 patients and 64 visitors.
Dr Louise Marshall, from the trust, said the health of its staff is a "huge priority".
The findings, which will be discussed by Oxford University Hospitals (OUH) board members, comes after NHS England chief executive Simon Stevens said in July that the organisation should encourage staff to enjoy a healthier diet and lose weight.
Here For Health is being run as a one-year trial and the cost of around £80,000 is being funded by Oxford Radcliffe Charitable Funds and the NHS England Thames Valley Area Team.
People who attend can discuss their lifestyle with a health promotion specialist and have their Body Mass Index (BMI) calculated.
The centre is located in the Blue Outpatients area on level two at the hospital and is open Monday to Friday.