Ex-Caterham boss Tony Fernandes 'walked away from staff'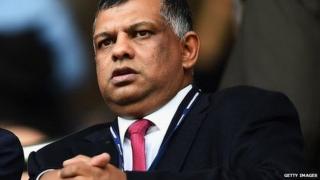 Ex-Caterham owner Tony Fernandes has "walked away" from employees, a former worker at the Formula 1 team claims.
Jim McManus, a senior analyst for team based in Leafield, Oxfordshire, was one of 230 people made redundant on Friday.
He said he wanted Mr Fernandes to "take some responsibility for the situation".
"He's a wealthy man, an owner of a Premiership football team and I think he's got a moral responsibility to the employees to do the right thing."
Mr McManus also said the team had been "insensitive" to announce crowd-funding success at the same time as job losses.
'Pretty upsetting'
The team went into administration last month and staff have not been paid since 30 September.
Administrator Finbarr O'Connell said he hoped staff could be re-employed.
The BBC has so far been unable to contact Mr Fernandes for comment.
Mr McManus said news of the redundancies had been "pretty upsetting".
"The way it coincided with all the hoopla surrounding the crowd-funding was unfortunate and insensitive," he added.
He said of Mr Fernandes, who founded Caterham and is chairman of Queens Park Rangers Football Club: "He's simply walked away from the employees."
The Malaysian businessman entered F1 four years ago with what was then called Lotus Racing.
He changed the team's name to Caterham in 2012 after buying the manufacturer of lightweight sports cars, but announced he had sold the team in July.
Mr Fernandes still owns the Caterham Group, which comprises two technology companies as well as the car manufacturing arm.
Mr O'Connell, representing administrator Smith & Williamson, said staff who were made redundant on Friday could be re-employed if a new buyer was found.
He said the "main objective" was to "have the same people back in there working again".
He previously said he will meet a potential purchaser at the Abu Dhabi Grand Prix who he believes can save the team.