RAF Brize Norton service for mums faces closure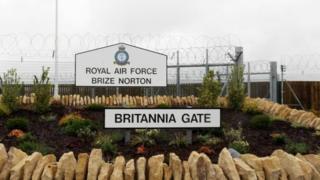 A service that supports new mothers in Oxfordshire whose partners are in the armed forces is facing closure.
The Oxford Parent Infant Project started helping families at RAF Brize Norton in Carterton in February, but will have to stop offering the service if more funding cannot be found.
Adrian Sell, from the parenting charity, said the decision had been made to ensure its financial stability.
Representatives of military families have vowed to save the service.
The initial funding, a one-off grant of £5,000 was provided by SSAFA, an armed forces charity that supports soldiers and military families.
It was used to enable new mothers to have sessions with trained therapists to talk through any concerns and ask for parenting advice.
'Difficult time'
Mr Sell said: "Often military families will be located somewhere away from their other families and networks of support.
"They will have a partner who is probably serving overseas and then, when that partner returns, they may be traumatised by things they have seen or may be physically injured.
"It can be a very stressful and difficult time."
However, unless new funding can be found, the service will finish in March.
Mr Sell said: "We are a small charity, we sustain services as far as we can, but if funding isn't available then inevitably we have to take the decision to close them because we have to ensure our financial stability as an organisation."
But Lynn Little, the local representative for SSAFA, said: "It's a vital service for the community and it is one that I will make sure continues, because I can see the great work that it is doing."