Sir Roger Bannister receives Oxford sporting honour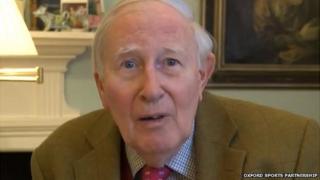 Sir Roger Bannister, the first man to run a four-minute mile, has been honoured for his contribution to sport in Oxford.
As a 25-year-old, Sir Roger, now 85, made sporting history with his landmark run at the city's Iffley Road track on 6 May 1954.
He received the first Lifetime Achievement honour to be awarded at the annual Oxfordshire Sports Awards.
Sir Roger said the award "means a great deal to me".
The Oxfordshire Sports Awards, held for the past nine years, recognise the achievements of sporting individuals, clubs and businesses in the county.
In a pre-recorded video shown at the awards ceremony at the Kassam Stadium, Sir Roger said: "Oxford has been the centre of my life for so many years and its a wonderful thing to commemorate those years where I've been so happy here."
The awards judging panel is made up of representatives from sports organisations, clubs and local media.