Pig containing father's ashes returned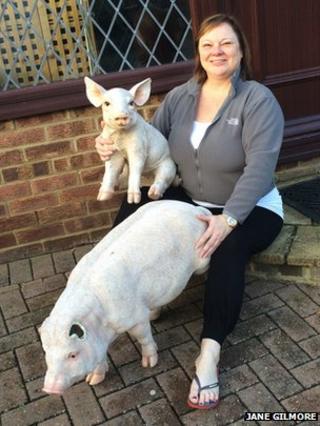 A woman whose father's ashes were inside a fibreglass pig stolen from her garden says they have been returned, restoring her "faith in human nature".
The life-sized piglet and pig, containing the ashes of Norman Simmons, had been dumped in a hedge in fields near her home in Bloxham, Oxfordshire.
They were discovered by a dog walker who had seen the story in the media.
Jane Gilmore said she was "overjoyed" but would be getting CCTV and gates installed at her home.
The pig and piglet had been wired and concreted into the ground in Ms Gilmore's front garden and she had put the ashes of her father, who had been a farmer, inside the largest of the two ornaments.
After the pigs went missing on 14 November, Ms Gilmore had given up hope of seeing them again until she received a telephone call on Sunday from villager Kevin McDermott, saying he had spotted them in a hedge while walking his dog.
Both the ears had been broken off the largest pig but they were returned with the ornaments.
'Living in a prison'
Ms Gilmore said the pigs would be repaired and reinstalled in her front garden but she would also be increasing security at her home.
She said: "It's a sad state of affairs when, in a little village in the middle of Oxfordshire, you still have people who think it's quite alright to walk on to your property and pinch what they want.
"To put up security cameras, you almost feel like you are living in a prison and your home should never feel like a prison."
Mr Simmons, who built a farm in Wickford, Essex, in the 1950s, died in 2008. He taught himself farming after recovering from TB, contracted while serving in the Navy during World War Two.