Summertown's roadworks-themed Christmas tree decorations removed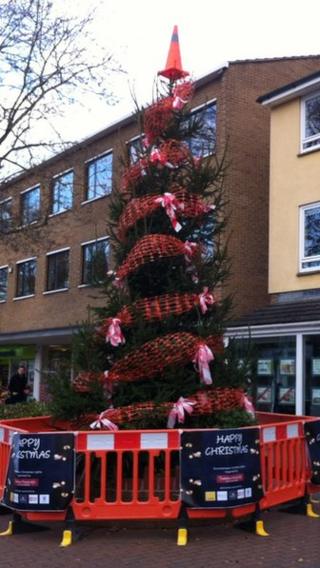 An artist has been told to remove his roadworks-themed decorations from a Christmas tree in Oxfordshire.
Summertown's 18ft Norwegian pine was decorated with orange mesh, barrier fencing, red and white striped tape, and topped with a traffic cone.
One local business, which sponsors the tree, called for their removal following complaints from residents.
Entitled Elfen Safety, Oxford artist Ted Dewan said it was designed as a tribute to the city's road workers.
The business, which did not want to be named, said it had received several complaints and felt the decorations should come down.
'Teenage prank'
On Twitter, Sheenagh Reynolds commented: "Someone's been creative in Summertown with road tape and cone #bahhumbug."
On Radio Oxford's Facebook page, Kimberley Costar said: "Looks like some teenage prank!"
Andy Jantaphan described it as "modern art junk".
Mr Dewan, who created Oxford's Cyclemas Tree 10 years ago, which was made of 40 discarded bicycles and scaffolding, said the theme for the Summertown tree had been an "emergency" one after he discovered the original decorations were not weatherproof.
He said he hoped people would see the "beauty beyond the humble associations with these hastily improvised materials" which cost £75, but admitted many had not.
He said he would now offer them to a construction company.
Summertown's Christmas street lights were due to be switched on at 17:30 GMT, but Mr Dewan said there would not be any lights or decorations on the tree.