'Not enough space' for Oxford housing need, study claims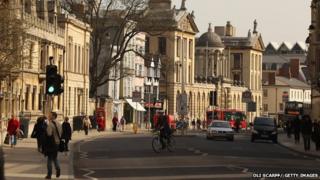 A study claims there is not enough land in Oxford to meet its housing need.
The Oxford Land Availability and Unmet Need Assessment found space for about 10,200 new homes, stating this leaves a shortfall of up to 21,800 homes.
Oxford City Council, which commissioned the report, said the results show a review of the city's Green Belt is "urgently needed".
But the Green Party said green spaces needed to be protected and there were other solutions to be looked at.
'Housing near jobs'
The assessment identifies sites that have development potential for housing and student accommodation.
Councillor Bob Price, leader of Oxford City Council, said Oxford needed up to 32,000 homes by 2031.
He said: "In light of this enormous need, the city council were determined to ensure the most thorough assessment yet of the availability of housing land in Oxford.
"The conclusions to the study show a shortfall of up to 21,800 homes.
"Even a more conservative estimate of Oxford's need shows a shortfall of 17,800 homes compared with what can be realistically and sustainably achieved.
"This leaves us with no doubt that a strategic review of the Oxford Green Belt, to allow us to plan for a sustainable urban extension, is urgently needed."
The city council's Green Party leader Sam Hollick said the authority "should be looking at getting more affordable housing" and said it "makes sense to build housing near where the jobs are going to be", such as nearby Bicester, which plans to become a garden city.
He added the council should also be looking at empty commercial sites as potential redevelopments rather than targeting the Green Belt.
He said: "You don't want to be built up wall-to-wall and have no access to green space."