Jack FM turkey 'cook or save' vote slammed by Brian May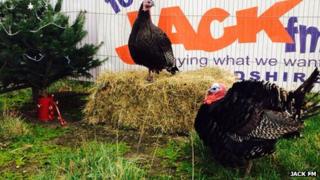 A radio station that asked listeners to vote on whether two turkeys should be killed has been criticised by animal lovers - including Queen guitarist Dr Brian May.
And the RSPCA has urged Jack FM to rethink the online vote on whether the turkeys should be cooked or kept alive.
The RSPCA said it opposed any practice with the "potential to cause animals pain... in the name of entertainment".
Currently, 62% of people have voted to save the turkeys, named Sage and Onion.
The Oxfordshire station said if listeners voted to kill the pair in the "cook it or keep it" poll the farm would "facilitate the procedure".
Guitarist May, who also opposed the badger cull, asked on Twitter: "Anybody else disgusted by this?"
The campaign has also received mixed comments from the public on social media.
Posting on BBC Oxford's Facebook page Tasha Baker said: "You can bet 90% of those who complained will have a turkey on their table at Xmas."
Wendy Grimsdale posted: "We all know animals are slaughtered for food but that doesn't mean we should celebrate the killing as entertainment."
Jack FM's News Director, Caroline Verdon, said: "If it's decided that the turkeys are to be saved then we will be working with the relevant welfare authorities to make sure that Sage and Onion's forever home will be somewhere that they can have a long and happy life together.
"If listeners vote to cook the turkeys, the turkey farm would facilitate the procedure."