Disabled man Nico Reed's death sparks call for legal aid at inquests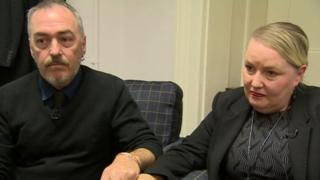 A disability charity is calling for legal aid at inquests after a family spent their life savings on lawyers to investigate the death of their son.
Nico Reed, 23, who had cerebral palsy and severe learning disabilities, was found dead at Barrantynes supported living home in Oxfordshire in 2012.
His mother said finding the money, around £16,500, had been "a nightmare".
Mencap said it was "unacceptable" the Reed family had to "pay thousands of pounds" for legal representation.
'Strain' finding money
Nico died after choking on his vomit.
He should have been checked by a carer every 20 minutes, but had been left for up to one hour.
Oxfordshire coroner Darren Salter recorded a narrative verdict.
Mencap, a learning disability charity, is calling on the government to ensure "families of people with a learning disability who have died unexpectedly get an automatic right to legal representation at inquest".
Beverley Dawkins from learning disability charity Generate, which is also helping the family, said legal representation was important in such complicated cases in order to "get the right questions asked and to make sure evidence is scrutinised properly".
Nico Reed's mother Rosi, from Bloxham, Oxfordshire, said: "The struggle to fund the funding to pay for our essential legal team has been a nightmare - all our savings, every penny we could find.
"We've had a substantial donation from Mencap, we've had donations from private individuals, some of whom I don't even know - they just want to help.
"The strain of having to find this money and fund-raise, on top of everything else, is something I think most people don't realise that you go through."
A Ministry of Justice spokesperson said: "An inquest is aimed at helping families find out the circumstances behind the death of their loved one.
"Lawyers are not usually required as the hearings are specifically designed so people without legal knowledge can easily participate and understand what is happening.
"The coroner is there to investigate the death and can put questions on behalf of the family during proceedings."