Flooded Normandy Crescent residents still not home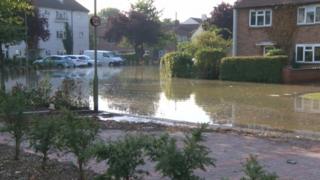 The majority of residents whose homes flooded when a water main burst in their street have been unable to return home three months on.
Twenty-three properties flooded when a 24in (60cm) pipe burst in Normandy Crescent, Cowley, on 23 September.
Out of 14 council properties that were affected only three households have returned.
Twenty-nine residents from the remaining council homes were still in temporary accommodation.
Thames Water said a meeting with the residents is planned for January.
'Fed up'
Great grandparents Barbara and Ernest Greenwood, who are now living in a hotel, will not be home for Christmas.
Mrs Greenwood, 80, said: "We are absolutely fed up, it has taken it out of us."
It is the second time in seven years the pipe has burst causing flooding in the crescent.
Resident Mandy Blessing, who is also still in temporary accommodation, said: "We typically have an open house on Boxing day and invite the neighbours round and we all get together.
"Obviously that is not going to happen and we are so hit by this emotionally that we've decided that we are actually going to go away for Christmas, just to get away from the entire situation, to try and forget about it for a couple of days."
Thames Water spokesman Stuart White said the residents' meeting will be held once the findings of an independent investigation have been reviewed.
He said: "Our main priority since the burst has been to get peoples' lives back to normal as quickly as possible. What happened here was horrendous and again we apologise."